In an effort to do a better job of getting My Work Up where you can see it – Here is a Brochure For A Local Maintenance Company in Los Angeles & Southern California that I recently put together. The company owner goes to my church, and has over 30 years of experience in this profession. As we are beginning to discuss building a website for his company in the next few weeks; a decision was made to have all new marketing materials as well.
The following are Drafts and may change when it comes to the final print – Preview A Brochure For A Local Maintenance Company in Southern California Designed by KingsTeamInternational.com – and stay tuned for the website we are building for this established and experienced Maintenance company, here in Los Angeles.
The inside of the brochure (draft) – AJ Building and Maintenance: A Professional Floor Care Company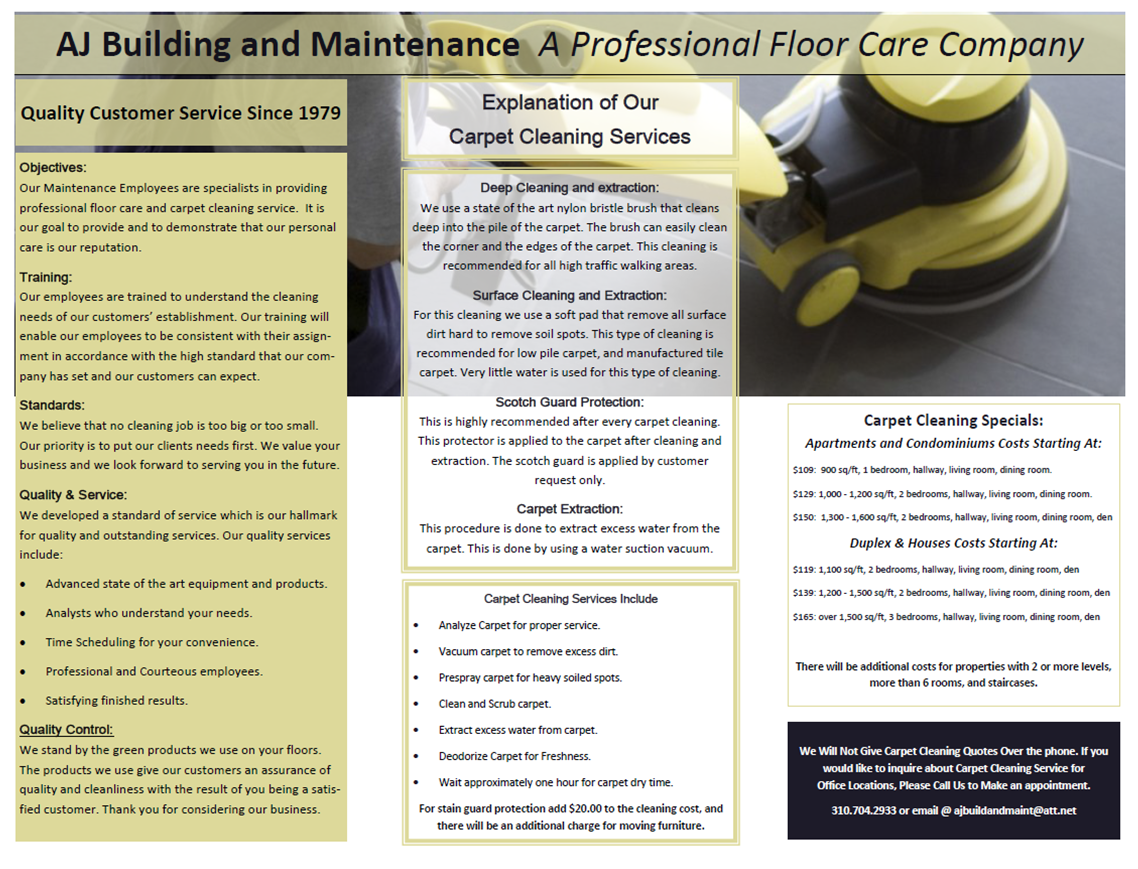 Outside Cover (far left) Inside Cover (far left with operator standing by) and Back (in the middle) – AJ Building and Maintenance: A Professional Floor Care Company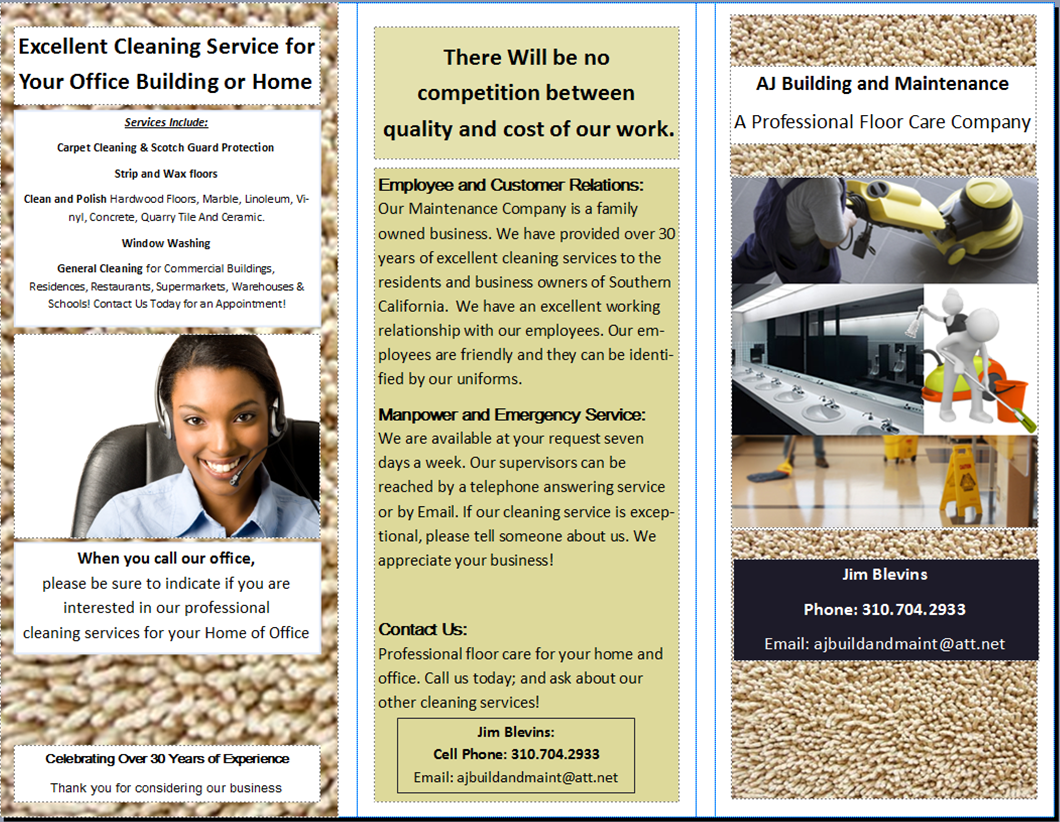 As I mentioned, this company is run by someone I know personally; who's company has a reputation for quality service for over 30 years. I wanted the new brochure to reflect that. The current "outside cover design" – is actually an 'option' – as I may go with a more conservative outside; such as was the case with the original draft.
Here is the Original Outside Cover (much more plain, as you will see)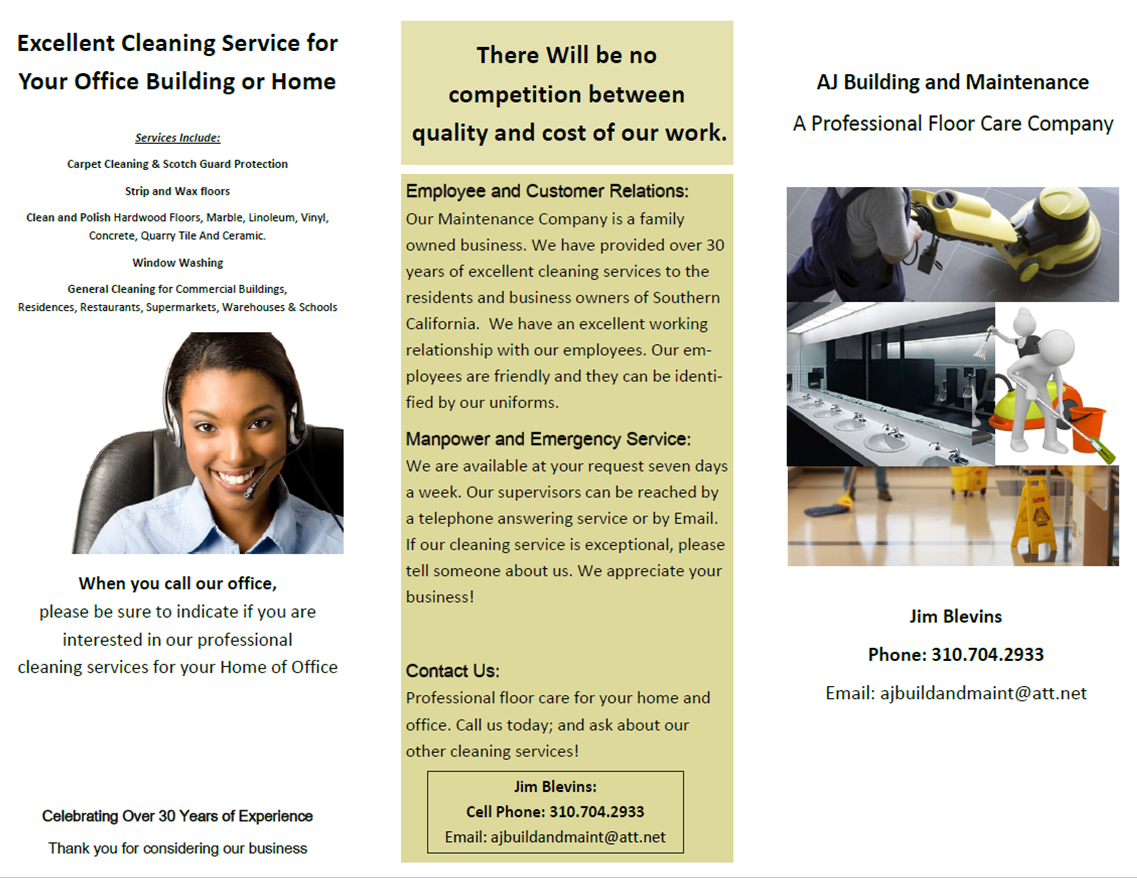 Both in my humble opinion are an improvement from what they had before; but that is no slight to the original brochure design company.  Let me know in the comments below if YOU like these! Your feedback is always useful and valuable.  As an artist for over 20 years now; perhaps even longer than that – the fact of the matter is that other people see things 'we' do not always see. Let me know what you see in the comments below!
If you are in the Los Angeles area – Give AJ Building and Maintenance a call in case you are also in need of some good, quality Floor Cleaning; for your Home or Office!
Meanwhile; I'm awaiting to get these designs approved by the owner; and will make a few more additions to these to finalize them all the way; had a few more 'ideas' I want to put into the back of the brochure; and even 'floss' the inside cover up a bit more as well. If YOU are in need of brochures for your business; be sure to Visit the Contact Page for KingsteamInternational.com – and Fill out that Form for a Quote and a Call back – also if you needmore than Brochure Design – like Logos; a website or Improvements to your current website  – that page is where "the Magic Happens" …
Thank you as always for visiting my page here on the web  and for considering my Services for your business needs; whatever they may be. I'll have more previews of what I do as I am constantly doing work for several awesome clients; Happy Holidays to all of you!